Taking Action: Reimagining Just Futures in Technical Communication
2022 ATTW VIRTUAL CONFERENCE, JUNE 20–30
ATTW 2022 has started! Check out the full program (https://tinyurl.com/attw22) for details about each engaging workshop we'll host in Zoom. You can also access our at-a-glance program for a short version of the workshop topics and presenters.
Don't forget to sign up for workshops using the google form you've received with your conference registration. If you haven't registered yet, there's still time! Use the "How do I attend" information below to become a member, register for the conference, and access the sign up form. Hope we'll see you there!
Our 2022 conference spans 10 days and includes more than 30 Taking Action workshops, a keynote speaker, an opening session, and an awards session. Check out the full CFP for topic ideas and our call to action.
What are the workshops/activities?
Our virtual conference is organized around six categories of activities: capacity building, community & coalition building, program development & administration, technical skillshares, think tanks & futuring, and pedagogy. Check our ATTW Taking Action Flyer for more information on each workshop.
Who is the keynote?
We are excited to announce the 2022 ATTW virtual conference keynote speaker, Dr. Safiya Noble! Save the date for her keynote address, which will take place Wednesday, June 22 at 2PM EDT via Zoom.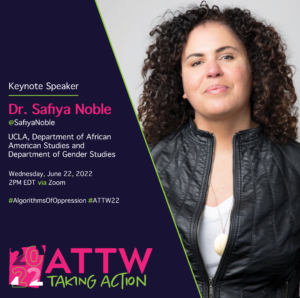 Dr. Safiya Noble is the author of the highly acclaimed Algorithms of Oppression: How Search Engines Reinforce Racism (NYU Press), a 2021 MacArthur Fellow, and the first recipient of the NAACP-Archewell Digital Civil Rights Award. She is an Associate Professor of Gender Studies and African American Studies at the University of California, Los Angeles (UCLA) where she serves as the Co-Founder and Director of the UCLA Center for Critical Internet Inquiry (C2i2). She and her work have been featured in TIME, The Guardian, the BBC, CNN International, Wired, The New York Times, among many others. Her talks and research focus on the ways that digital media impacts our lives and intersects with issues of race, gender, culture, and technology. For more information on this speaker please visit www.pandelectures.com.
How do I attend?
To attend ATTW 2022, make sure your ATTW membership for 2022 is up-to-date, and then register for the conference using the email address and password you've set up for your ATTW membership through the ATTW membership portal.
ATTW 2022 Conference Registration
Full registration: Faculty – $180.00
Reduced registration: Retired and Contingent Faculty – $85.00
Students – Free
ATTW 2022 Membership Dues
Faculty with Print and Online access to TCQ – $84.00
Faculty with Online only access to TCQ – $70.00
Contingent faculty – $60.00
Retired faculty – $60.00
Students – $22.00 (with verification of student status)
For questions about membership or conference registration, contact communications@attw.org. For questions about the 2022 ATTW conference itself, contact attwcon22@gmail.com.